About Us…
Hi there! We're glad you want to know a bit about us, John and Johnna, and what we do.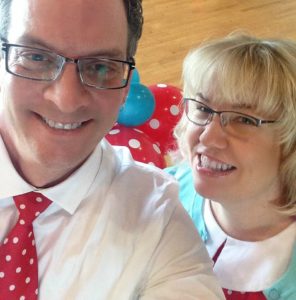 We have been sculpting with balloons in Kansas City and beyond since meeting as art students. Our first foray into balloons for a special event was at our own wedding in 1995. A guest at our wedding reception was so taken with our unique take on balloon artistry that they asked to hire us for an event on the spot. And a business was born!
In the years since, we've created artistry with balloons in venues from living rooms to art museums, elegant hotel ballrooms to exotic resort destinations, community festivals to the largest state fair in the nation. If there is a celebration, we bring the balloons! No two days are the same and we love that–because no two events are the same.
In 1995, we hit the ground running, bringing balloon artistry to birthday parties, weddings, corporate events, just about any celebration you can imagine. Balloon artists were squarely in two camps at that time: balloon entertainer or balloon decorator. From the start, we combined the two using both round balloons and long, skinny balloons in our artistry. With the new Millennium came the first of many opportunities for us to work abroad. We have now created balloons in seventeen countries on four continents and are close to bringing our unique variety of balloons to all of the states. We are part of the team who built the World's Largest Non-Round Balloon Sculpture in Belgium and are the first two-artist team to build large balloon sculpture installations for events attended by over a million guests. Yes, a MILLION! We are based in Kansas City and available worldwide for your events.
But enough about us…we want to know about YOU! We want to hear all about your event, your celebration, your company event that needs color, whimsy, and fun. Drop us an email or call us at 913.486.0950. We can't wait to chat with you about your event!