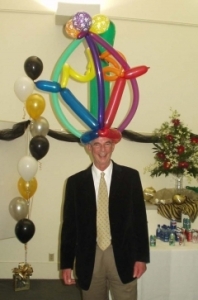 No doubt about it. We love what we do and enjoy sharing our artistry with others. We can teach anyone 5 years of age or older how to make their own balloon creations, with our Balloon Academy offerings geared to the age and size of your group.
Our Balloon Academy for adults starts at 2 hours in length and includes all supplies necessary for up to 20 people to have fun! Each guest will learn to make up to 4 balloon creations. Ask us about our Balloon Artist's Create-It-Kit, an add-on fun party favor packed full of everything needed to impress their friends and family at home with their newly acquired skill! Balloon Academy starts at $450.
Our Balloon Academy for elementary through high school students is a full-day program which can include up to 3 two-hour workshops where students work together to build a balloon sculpture which is displayed in their school. We have taught thousands of students how to create sculptures with balloons around the globe! Our daily rate starts at $1850 plus travel.
Would you like to learn more about Balloon Academy? Drop us a line or give us a call at 913.486.0950.