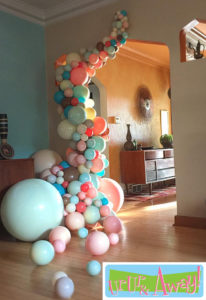 We are a tiny balloon studio and we LOVE supporting our Kansas City community in a BIG way. We donate our balloon artistry services to one local non-profit each month of the year and also volunteer our time beyond balloons. We know this is a lofty goal as a small business, but we are dedicated to giving back as often as possible. In 2022, we were awarded the State of Missouri's Show Me Service Award for our commitment to service and donation to local non-profits. As a small business, this was quite an honor, especially when past winners had hundreds and thousands of employees! We are on a mission to do as much good as we can.
We are particularly interested in partnering with non-profit groups who help feed hungry people and pets, help local residents overcome homelessness, work to create equality for all people and welcome those new to our country. If your non-profit donation request sounds like a good fit, we'd love to hear from you!
In October of each year, we select our non-profit recipients for the upcoming year. 2023 recipients have already been selected. Now is the time to submit your request for 2024. If we can fulfill your request, we will be in touch so make sure all of your contact information is complete. Thank you so much for thinking of us and sharing information about your cause.
Our recent non-profit donation recepients include KC Pet Project, Jewish Family Services, Westside Community Action Center, KC Girls Prep Academy, SevenDays of Kindness, Kansas City Mayor's Christmas Party, Operation Baby Shower with the KC Chiefs Womens Organization, KC Refugee Birthday Party with Della Lamb and Jewish Vocational Services, Steps of Faith Foundation and many others. We love our community and hope to add many more local non-profits to our list!
Non-Profit Donation Request