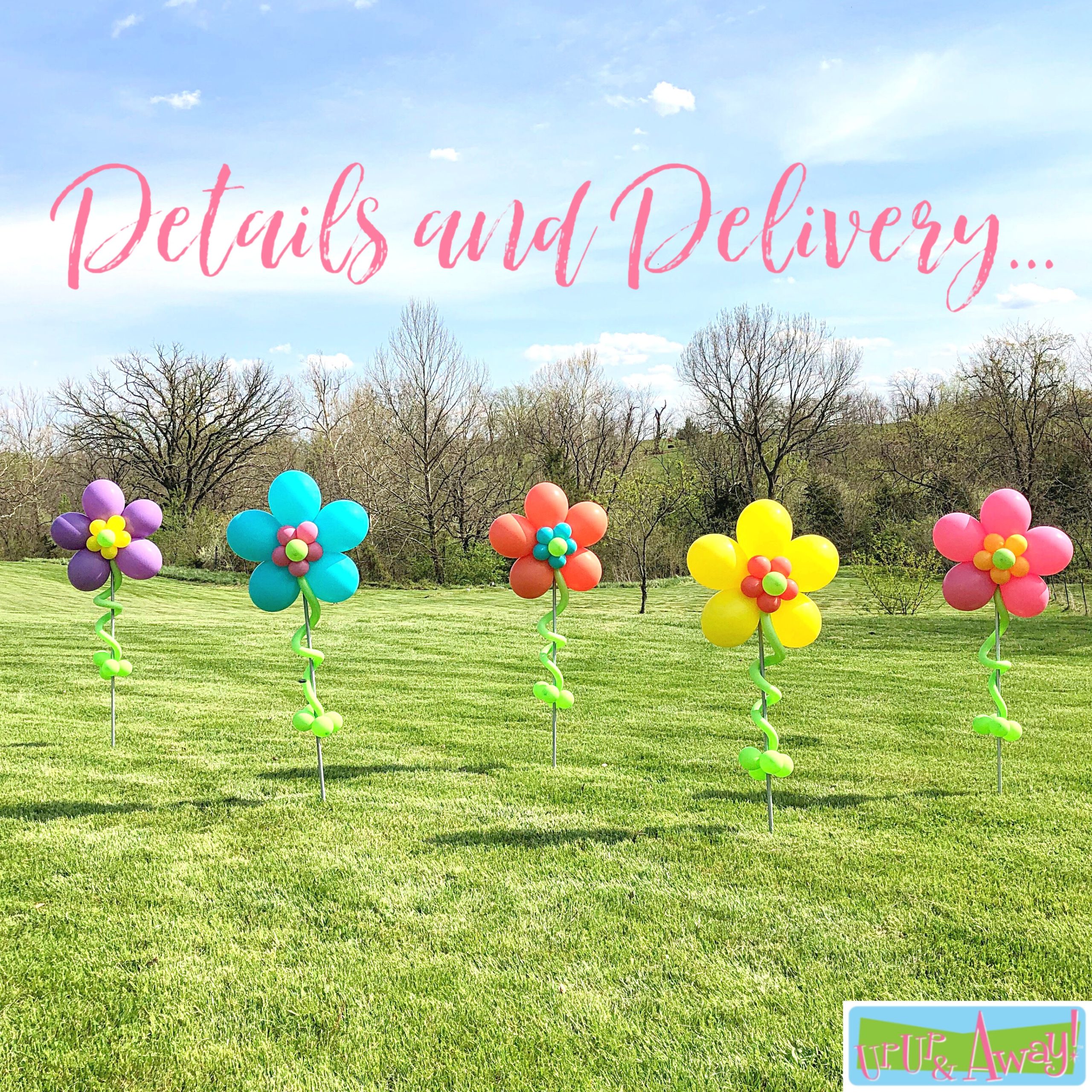 Hello! Thanks for dropping in to get the details on Up, Up & Away's Yard Art Balloons for delivery in the Kansas City metropolitan area.
Through June 1st, 2020, we are delivering only ZERO CONTACT Yard Art Balloons. Everything we deliver is intended for outdoor use and not meant to be brought inside in an effort to minimize contact. Our tiny staff have taken quarantine very seriously and will deliver and setup your order with absolutely zero contact with you. We won't even ring your doorbell. We want to bring you only joy, happiness and balloons!
A few important notes:
DELIVERY: Our Yard Art Balloon sculptures are available for delivery only, pickup is not available to minimize contact. Plus we want your balloons to look perfect when placed in your yard; we can best do that by delivering right to you! Delivery charges range from $15 to $35, based on mileage from our private studio. Give us a call at 816.792.5390 and we can tell you the exact delivery charge to your location. We've decreased our delivery charges to cover only our expenses because we want you to have balloons and know that is a challenge right now!
DELIVERY AREA: We deliver to the entire KC Metro Area including Johnson County all the way north to reach most of the Kearney area.
MINIMUM ORDER: Our minimum order is $150 plus delivery. We will collect all of the details and payment information when you call us to place your order at 816.792.5390.
CARE OF YOUR BALLOONS: When you call to place your order, we will go over where you would like your Yard Art Balloons installed. Our balloons prefer to not be in direct sun, especially as our days grow warmer. A sheltered spot near a doorway also helps to shield from any gentle breezes. When your balloons are ready to retire, we ask that you collect and dispose of them. The latex balloons are biodegradable and can be added to your compost. The pole the balloons are on is a recyclable steel; just place in your recycling bin. Or if you are a frequent balloon fan, we will pick it up at your next balloon delivery and re-use it many more times!
TIMING: Timing is everything! We ask for orders 48 hours in advance to be sure we can fulfill your balloon dreams. We are working with a limited supply right now as balloon factories and our suppliers get back to business alongside us. We may have to make a few substitutions along the way, but will always talk with you about this. Our deliveries occur between 8 am and 12 noon unless we have agreed to an alternate time.
QUESTIONS? We LOVE your questions and can best answer them on the phone, 816.792.5390. Your call will always be answered by John or Johnna, voicemails always returned just as quick as we can. We built our business on custom artistry and taking really good care of our customers. This hasn't changed in 24 years and we can't wait to work with you!
Ready to place an order? Call us at 816.792.5390. We are taking phone orders. Thanks so much!