Welcome to our collection of Outdoor Yard Art Just for Fun Balloons! Each option can be created in colors of your choice. As always, if you have an idea you don't see what you have in mind, call us. We will make it happen. While much has changed in our world lately, you can still count on unique artistry and exceptional service from Up, Up & Away!
Click here for information our Delivery Area and Price plus all of the Details for our Yard Art Balloon deliveries through June 1st, 2020. We are operating under special circumstances in response to COVID-19 and have a plan to bring balloons to you with zero contact.
Ready to place an order? Call us at 816.792.5390. We are taking phone orders and ask for 48 hours advance notice. Thanks so much!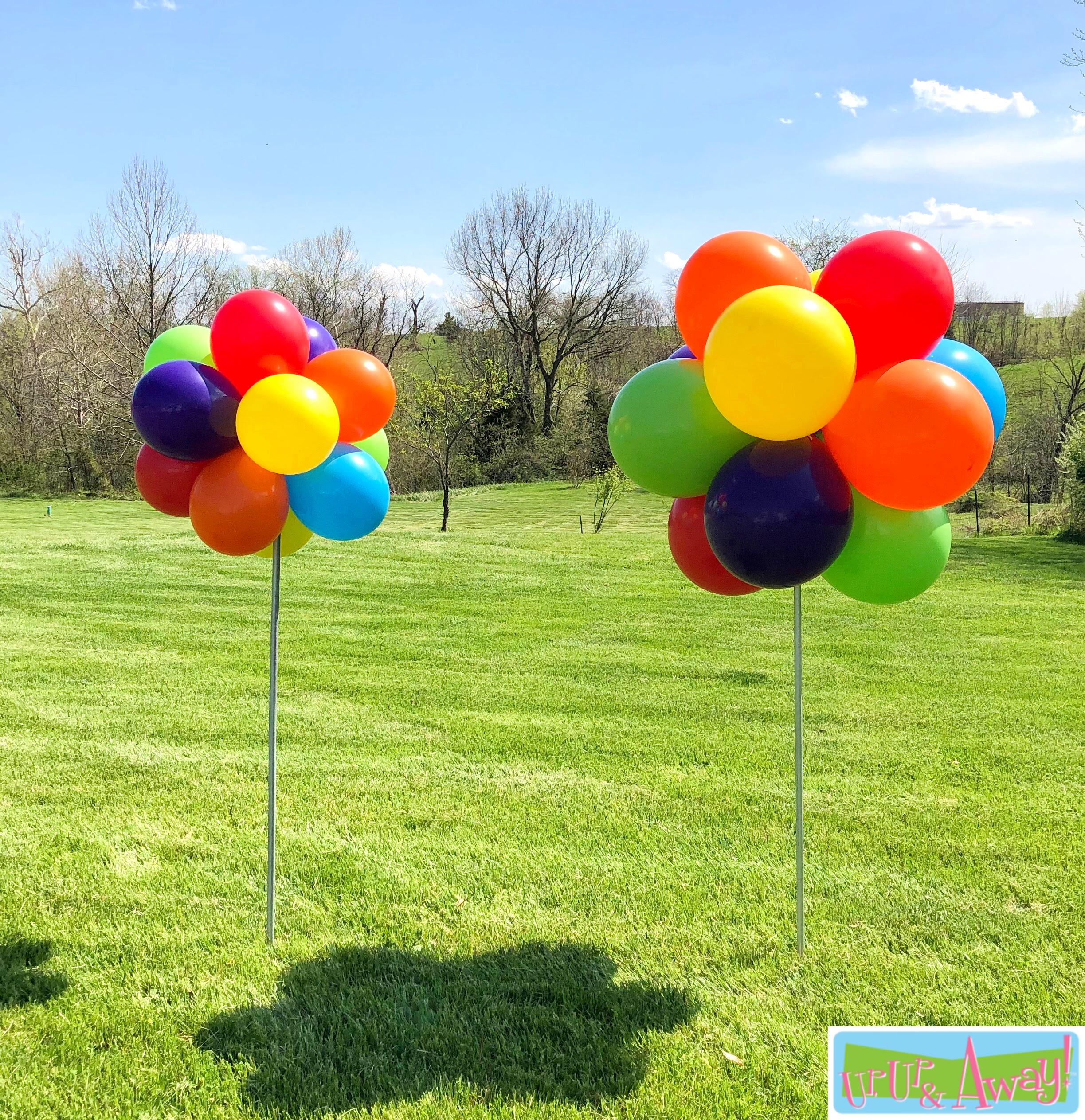 Balloon Topiaries are sold in Sets of Three. On the left, our PartyBall Topiary. On the right, our giant MegaBall topiary, triple the size of the PartyBall. These are perfect on their own and also fantastic to add to accent larger Yard Art sculptures!
$75 for 3 PartyBall Topiaries (shown above on the left)
$150 for 3 MegaBall Topiaries (shown above on the right)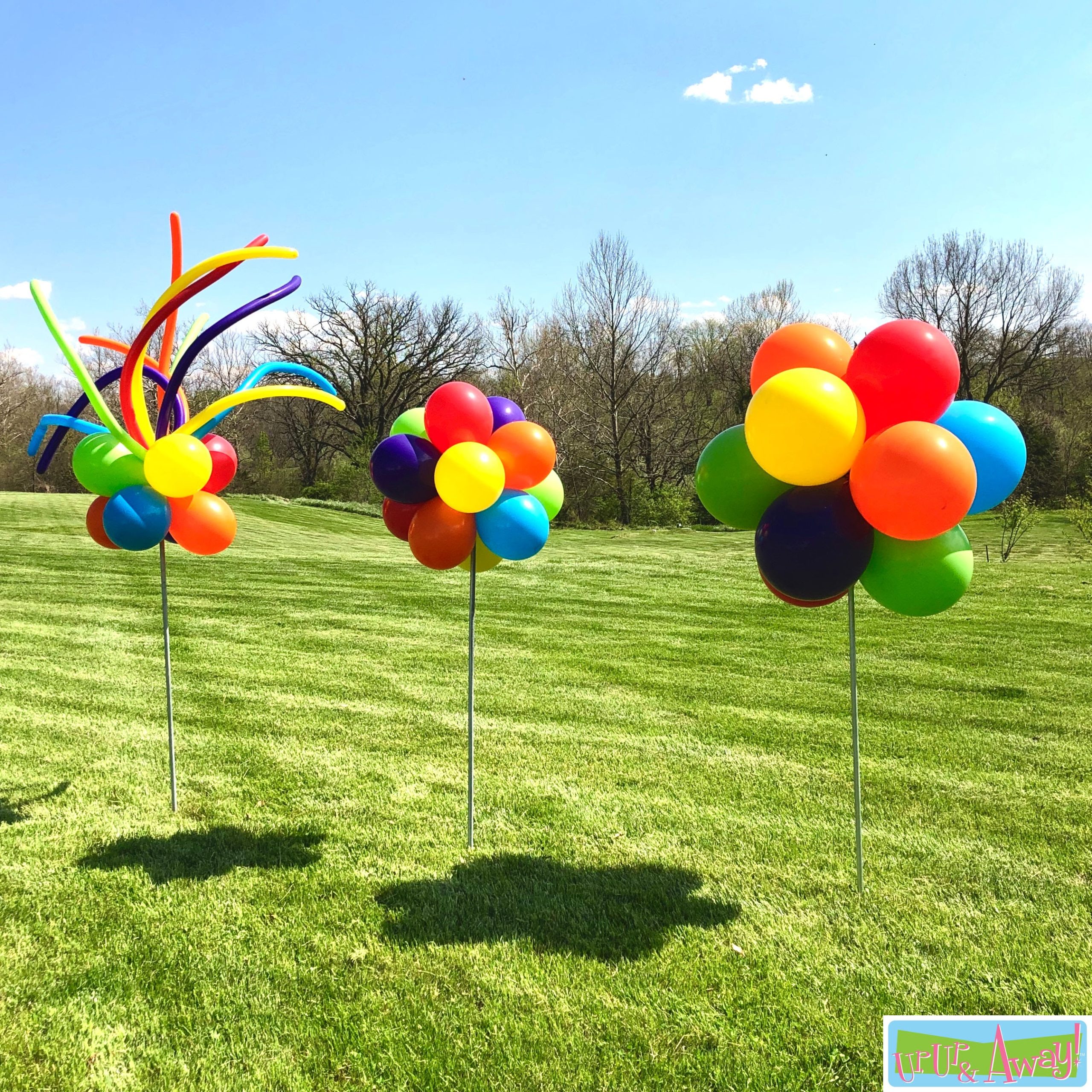 A fun addition to our Topiaries, the FunSpray shown on the left. These wiggle and wave in a light breeze! As with all of our Yard Art sculptures, choose colors that tickle your fancy! $90 for a set of 2 FunSprays, shown above on the left.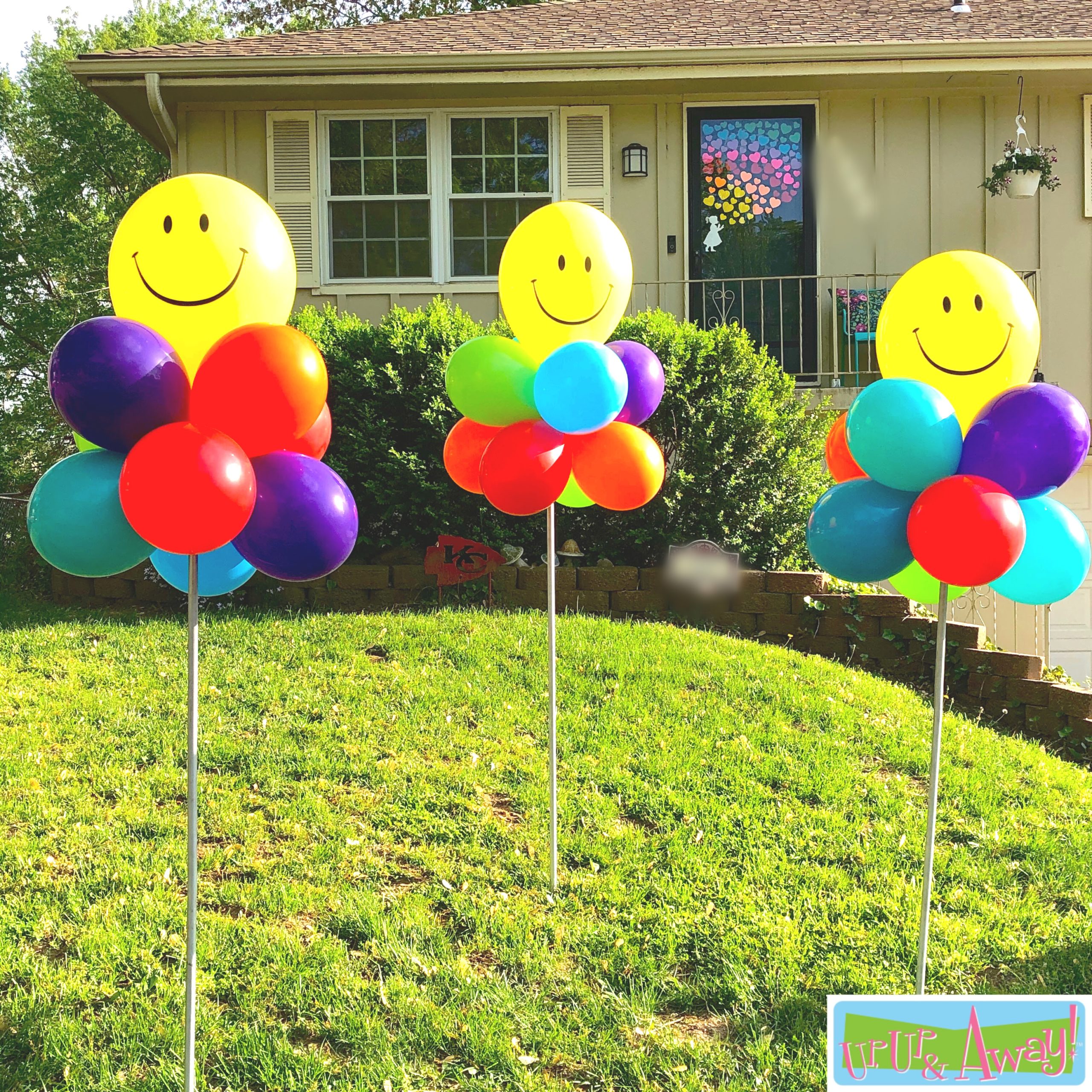 Send a Smile! These bright, happy balloons are available in sets of 3 and perfect to send to anyone who needs some happiness in their day. Send a Smile is $95 for a set of 3.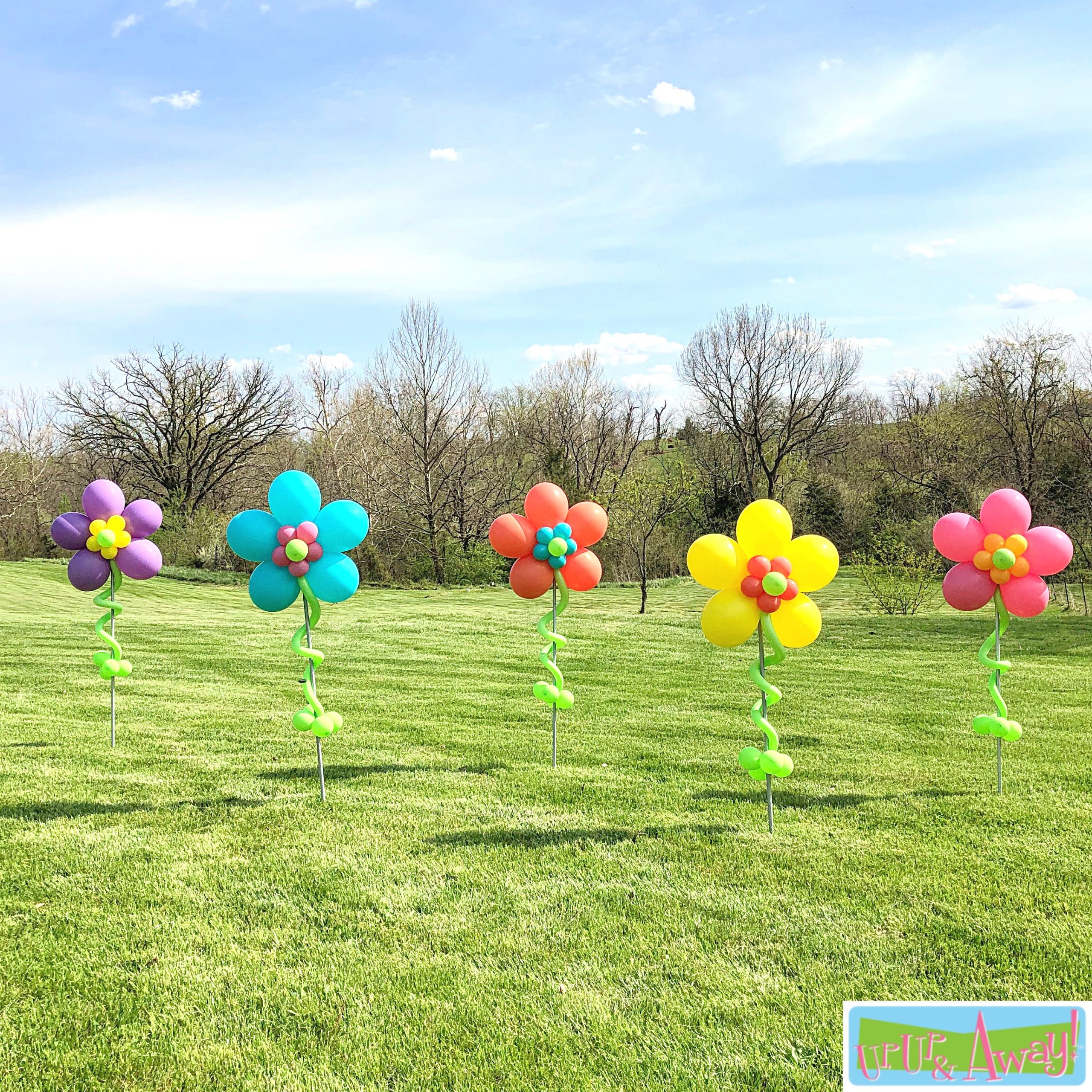 Our most popular Yard Art creation, our Blooming Garden. This set of five flowers is available in bright colors, pastel colors, traditional white daisies, school colors, a million options! The Blooming Garden is $150, customized just for your loved one!

We believe in Unicorn Gardening at Up, Up & Away! Our Rainbow Unicorn is a true statement piece, standing over six feet tall! The Unicorn Garden is $200, complete with Unicorn and Four Flowers. The Rainbow Unicorn is $80 without flowers.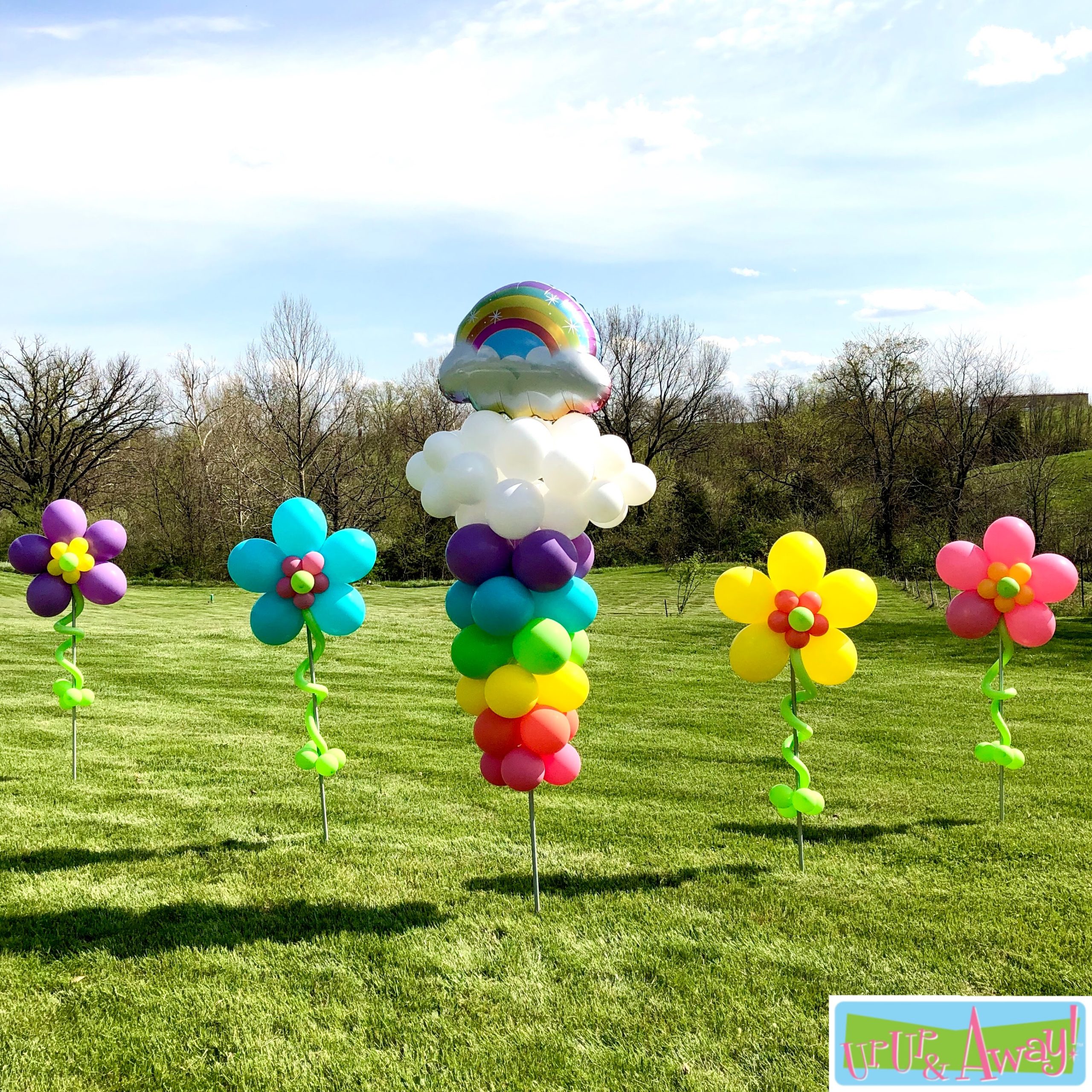 April Showers bring May Flowers AND Rainbows! Our Rainbow Garden is $210 with our large rainbow, cloud and rainbow balloon topper framed by four balloon flowers. Our Rainbow and Cloud sculpture is $90 without flowers.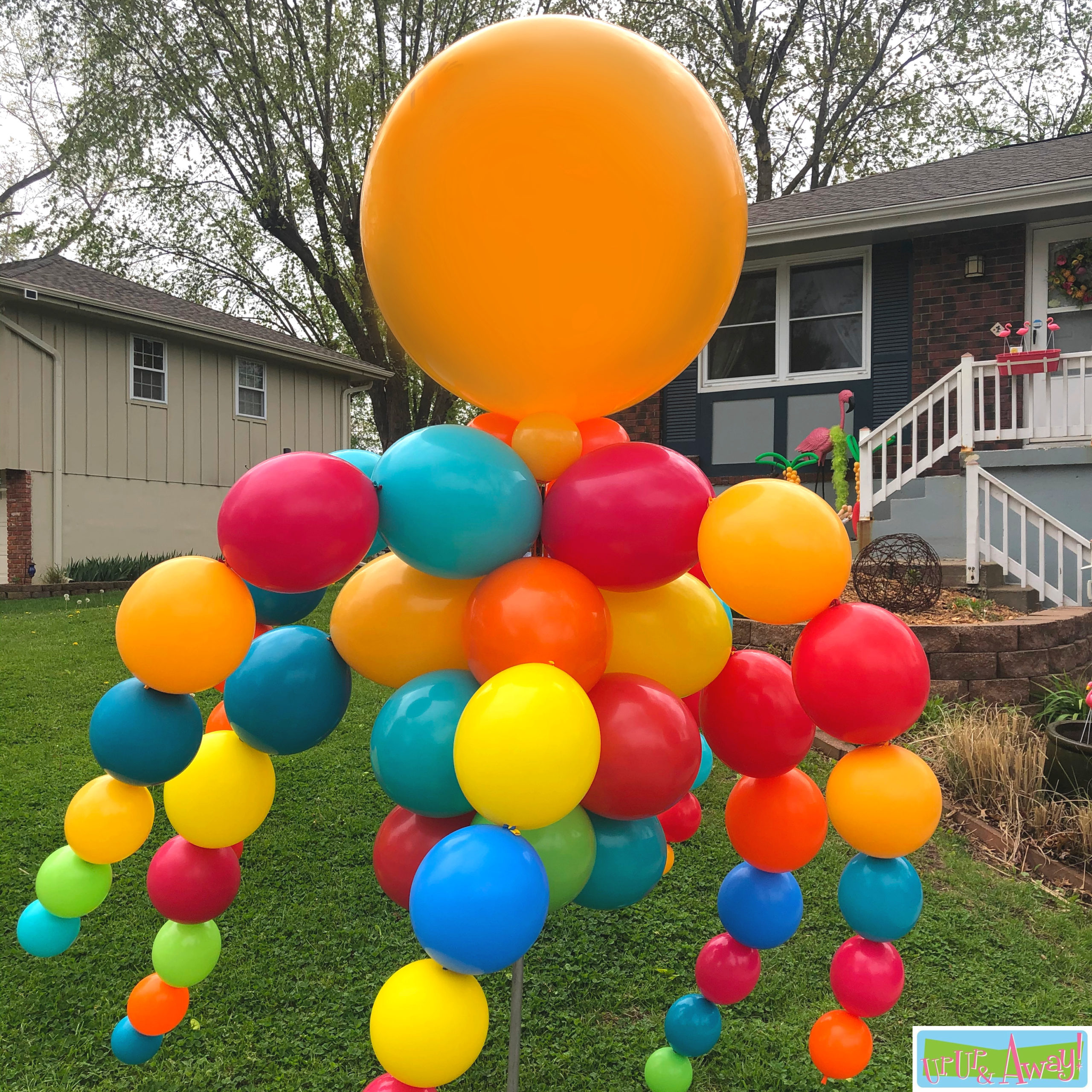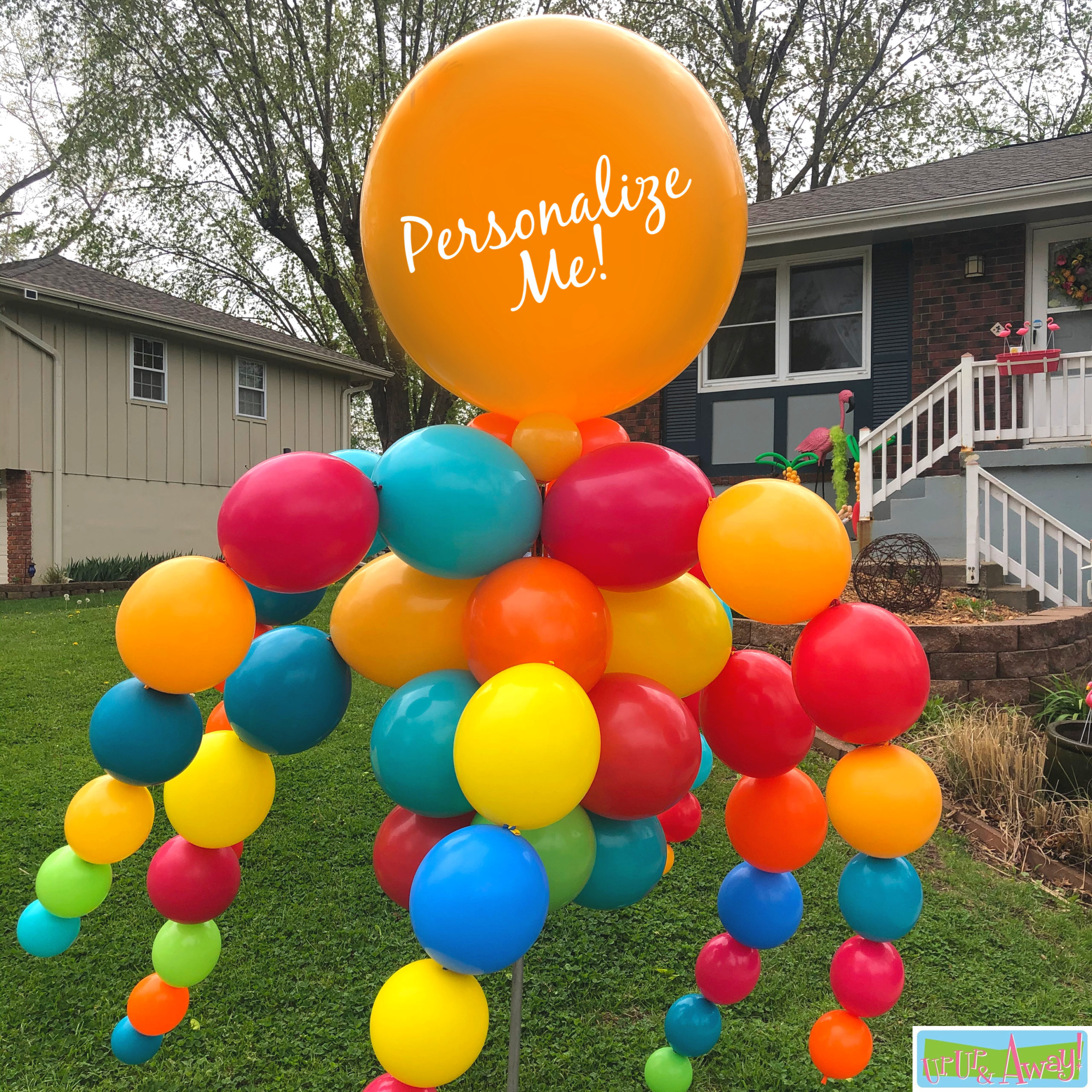 Our MegaWaver waves and wiggles in a gentle breeze, so much fun to watch it dance in your yard! MegaWavers are $125 each, $145 personalized.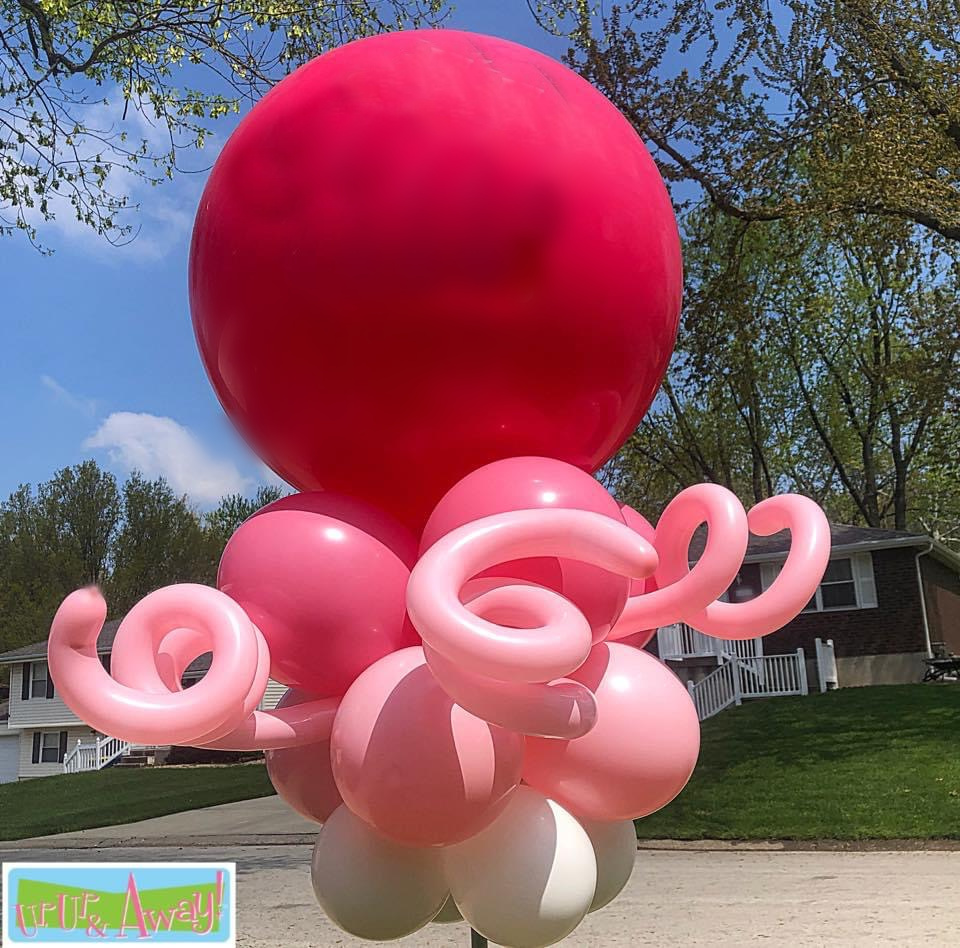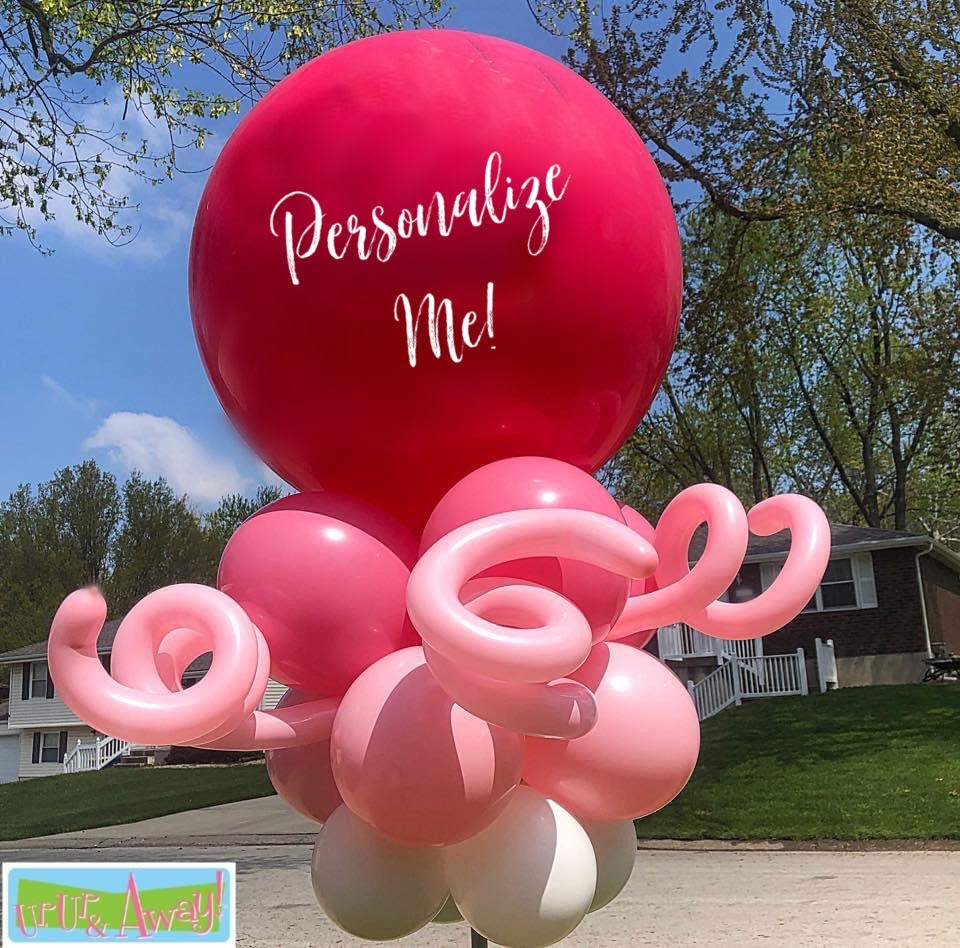 How cute is this?!? A giant 3′ balloon in your choice of colors above coordinating balloons and our signature swirl balloons, sure to brighten anyone's day! Swirls of Fun is $85, personalized with up to 24 characters is $105.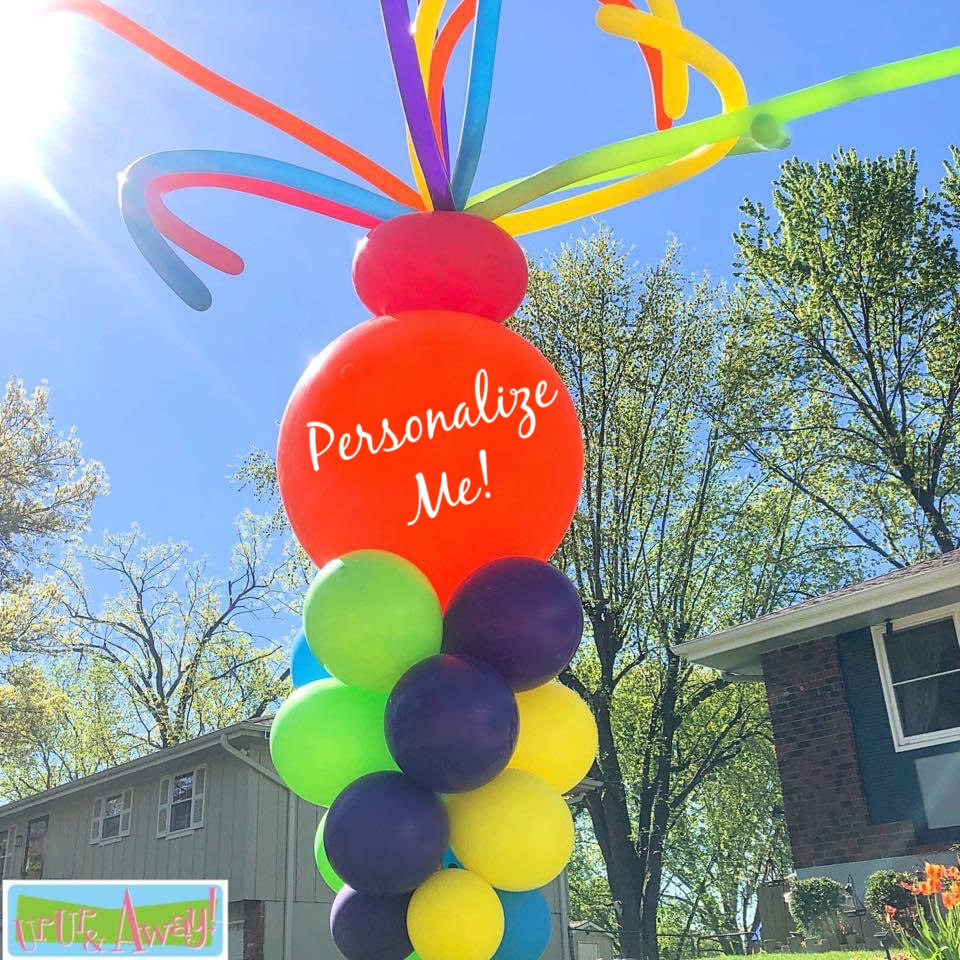 Our Giggles Tower creates not just giggles, but also smiles and joy! This is over eight feet tall and has the silliest wiggle on top in a gentle breeze. The Giggles Tower is $140, $160 personalized.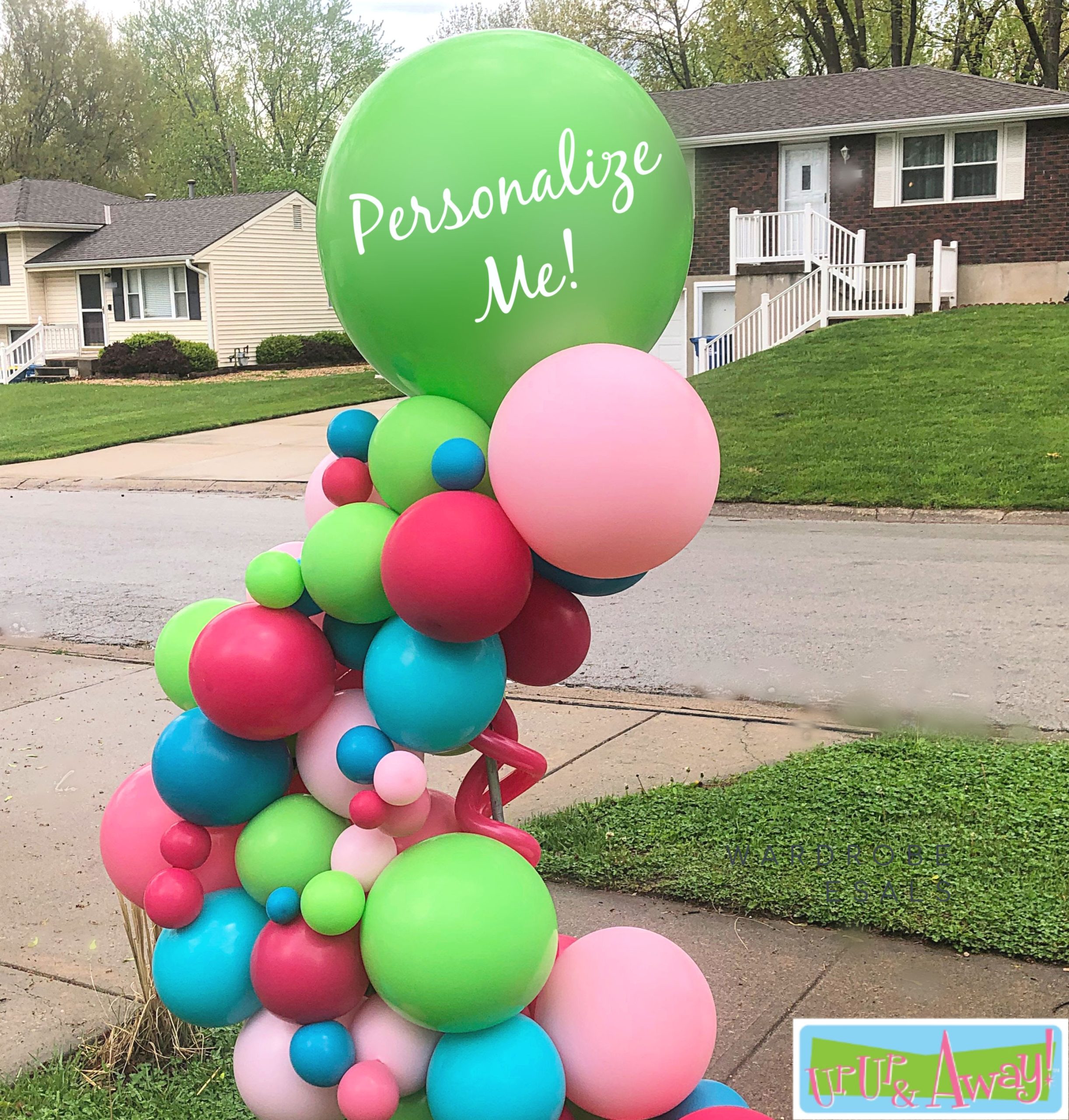 Our Custom Organic Installations can stand in your yard, wrap around your front entrance or mail box, greet passerby along your driveway. Each of these is a unique creation in your choice of colors with the giant balloon on top personalized. Each is uniquely priced, starting at $295.
We are excited for your call. Let us help you with your order, 816.792.5390.